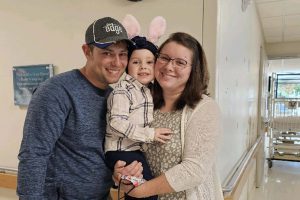 Chloe was taken to the University of Virginia ER with abdominal pain on Tuesday evening, February 21st. Scans showed that she had a tumor on her right kidney the size of a softball and a baseball side by side. The tumor and right kidney were surgically removed on Friday, February 24th.
The surgery was more difficult than expected. The tumor was growing out of her kidney forward –– towards her belly. The surgeon found that it had also attached to part of her intestines. Unbeknownst to us, the surgeon thought she may have to abort the surgery because of that, but since the tumor had burst and there was so much blood in her abdomen, she knew she had to get it out. She called in her colleague (the head surgeon) to assess the situation, and he came to help finish the surgery which lasted about eight hours.
At first, Chloe's pathology report came back as stage 3 Anaplastic Wilms' tumor. It is an aggressive cancer and can come back in other areas. UVA recommended intense chemotherapy treatments for 52 weeks and 12 radiation treatments mixed in. As of March 9th, Isaac and Angela were told that Chloe had a small nodule of cancer on one of her lungs. That changed her diagnosis to stage 4 cancer. At that point, the doctors decided to do radiation over a larger area to make sure that the cancer on her lung would be killed. She had her first chemo- therapy treatment on March 12th.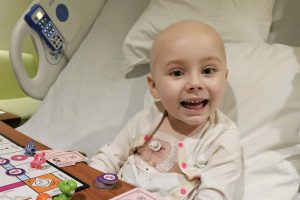 May was a busy month of both radiation and chemotherapy treatments. A scan was done before radiation treatments began and found that the small nodule on her lung is NO LONGER THERE! Praise the Lord! Chloe finished her last radiation treatment on May 17.
Please pray for God's mercy, grace and healing for Chloe during this time. Also pray for Isaac and Angela. GOD IS ABLE and we're going to trust Him!
We are rearranging all of our plans this year and will be staying near at hand for the family's sake. We will be filling dates closer to home, but all dates for the rest of this year will be tentative. We are thankful to be able to continue ministering as the Lord allows. Thank you for your continued prayers and support. This path that God has chosen for us to walk is hard, and we never expected to be here. Our God knows what is best, and we are relying on Him to see Chloe and our family through the tough days ahead.
For current updates: www.facebook.com/thebrentrochesterfamily